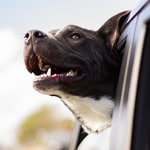 Are you planning on taking a trip out of Southfield, MI with your pet? If so, our team at Page Toyota wants you to be prepared so that you and your pet get the most out of your journey.
Be sure you're prepared with necessities that will keep your pet comfortable, and you can plan out stops along your route to give your companion a break. Be sure to carry enough water, food, and treats, and it can also come in handy if you pack toys to keep your pet entertained. Packing a comfort toy or item is also a good way to keep your pet calm when you're behind the wheel.
If your trip requires overnight lodging, make reservations in advance at locations that are pet-friendly. Some pets get car sick, so check with your vet about medications that treat car sickness. If you have a small pet, a carrier is beneficial. It's always important to make certain that your pet has on their identification tag while you're traveling.