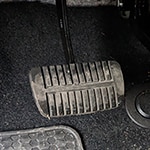 Your brake pedal plays an important role in your car's operation as you spend time on the road with your family or driving to work each day. There are a few signs your brake pedal is suffering from issues and needs attention.
It's common for there to be a burning smell coming from the part, especially when you try to come to a complete stop or slow the vehicle down. The car may also fail to drive straight and can veer to the right when you apply pressure to the brakes.
Another sign is if there are grinding noises or squealing sounds every time the brakes are in use. This indicates the brake pedal is no longer reliable and won't allow you to stay safe while driving in Southfield, MI.
There may also be a wear indicator that is present, making it necessary to consult the help of our service team here at Page Toyota.