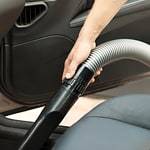 A clean car can make a good impression here in Southfield, MI. If you want to take it to the next level, consider taking the time to detail your vehicle. Both the inside and outside can benefit from some extra attention every once in a while.
For the inside, removing fingerprints from the windshield and windows should be a priority. Roll down the windows a bit so that you can access the top of the glass. Wipe down the dashboard to remove dust, and use a vacuum attachment or small brush to get the air vents clean.
On the outside, the wheels are important. You can buy a special cleaner to make them shine. Although you typically work from top to bottom when cleaning, you should always start with the wheels when washing your car. That way, you do not end up getting the grime and dirt from your tires onto your freshly washed paint.