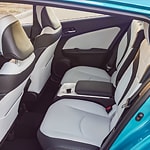 The 2020 Toyota Prius is a hybrid electric vehicle. It is a great choice because it will give you a smooth ride. It also has great fuel economy. The exterior is not the only thing that people like about this car. People also like the interior features.
The Toyota Prius has lane department with steering assist. It will start working when you are traveling at a speed that is over 32 miles per hour. It also works on roads that have markings. It will give you an alert when you start to drift. It will automatically put you back into the proper lane.
The Toyota Prius also has Apple Carplay. It is connected with your iPhone. You will be able to use send messages and make phone calls. You can also get directions without taking your hands off of the wheel. If you want to test drive the car, then you can visit us here at Page Toyota.