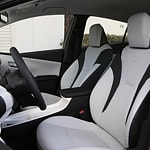 It's important to feel comfortable no matter how far you drive each day. Whether you make a quick trip around the corner or travel a long commute, the Toyota Prius will give you the convenience and comfort to enjoy the ride.
When you think of hybrids, spaciousness is not what comes to mind. The battery that energizes most hybrids gets placed in the trunk. When placed this way, it uses up space for your packages and belongings. Yet, this does not happen with the Toyota Prius because the battery hides under the second-row seating. That is why you have a roomier area to work with inside a Prius. Plus, the cargo potential for Prius is among the largest in its class.
This battery placement is impressive, but it's not the only way Toyota made more capacity in the Prius. Due to the hatchback design, you will experience 27.4 cubic feet of space behind the rear seats. These measurements are more than what you will find in many full-size vehicles. When you need room to pack for your next adventure, the Toyota Prius is ready for the job.