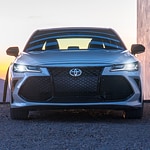 There are several reasons that the Toyota Avalon is a great vehicle. It has the ability to get up to 32 miles per gallon. It can tow a maximum of 3,704 pounds. Furthermore, Toyota Avalon has several safety features that can enhance your driving experience.
Stability control is one of the features that the vehicle has. This system will be able to detect when the vehicle has exceeded the handling limit. It will reduce the engine power and apply the brakes if necessary in order to prevent you from losing control of the vehicle.
Airbags have helped save countless lives. The Toyota Avalon has several types of airbags, including front-impact airbags, side-impact airbags, overhead airbags, and knee airbags. The airbags will reduce the impact of the crash. Additionally, your vehicle will be protected from unwanted intruders because it has a security system. The car won't stop until the correct key is used.